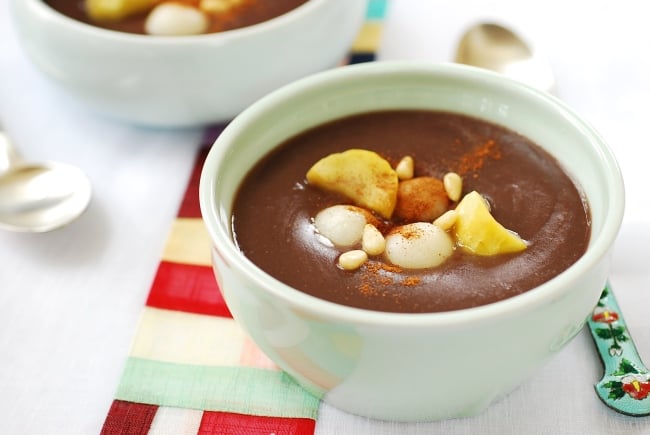 Sweet Red Bean Porridge
Ingredients
For the porridge
1

 

cup

 

 adjuki beans

1

 

tablespoon

 

glutinous rice powder

 (

sweet rice powder)

2

 

tablespoon

 coconut 

sugar

1

 

tablespoon coconut nectar or maple syrup

½

 

teaspoon

 hymalayan 

salt
For the rice cake balls
1/2

 

cup

 

glutinous rice powder(

 sweet rice powder)

2

 

teaspoons

 coconut 

sugar

pinch

 

of hymalayan salt

4

 

tablespoons

 

boiling hot water
Optional garnish
1

 

tablespoon

 

pine nuts

4 to 6

 

boiled chestnuts

1/2

 

teaspoon

 

cinnamon powder
Instructions
For the porridge
Rinse the beans. In a large pot, add the beans with 4 cups of water. Bring it to a boil, uncovered, over medium high heat. Reduce the heat to medium and boil for 5 min.

Drain the beans.
Return the beans to the pot with 4 cups of fresh water. Cover, and simmer over medium low heat until the beans are very soft and easily breakable, about 1 to 1-½ hours. Turn off the heat, and let the beans cool in the cooking liquid.
Puree the beans along with the cooking liquid until velvety smooth. You may need to do this step in two batches. Add some water if the bean puree gets too thick.
Return the bean puree to the pot. Mix one tablespoon of the sweet rice powder in ½ cup of water, and pour into the pot. Stir in the salt, sugar and nectar/syrup.
Simmer over medium low heat, uncovered, stirring frequently, for about 10 minutes. Adjust the thickness of the porridge by adding more water if necessary.
For the rice cake balls
Mix the rice powder, sugar and salt in a bowl. Stir in the boiling hot water with a spoon. When cool enough to handle, knead by hand until a dough is formed.

Shape the dough into a 3/4-inch thick cylinder.

Cut into (or pinch off) 3/4-inch pieces. Roll each piece between the palms to make a small ball.

Bring a pot of water to a boil. Add the rice cake balls. Cook until all the balls float. Transfer to a large bowl with cold water to cool. Drain.