Black Olive Nut Pate 
2 C. pine nuts, (note: yellow seeds indicate that the seeds should not be sued)
3/4 C. black olives
3/4 C. filtered water
1 avocado
1 C. fresh parsley, finely chopped
1 C. tomatoes, diced
Process nuts, olives, avocado and water in a blender until creamy; combine mixture with parsley and tomatoes and mix well. If you desire salt or any other seasonings please add at this time to taste.
VEGAN MUSHROOM PÂTÉ
Ingredients
Metric – US Customary
1

 

tablespoon

 

coconut oil

1

 

onion

 

, diced

2

 

garlic cloves

 

, minced

70

 

g

 

mushrooms

 

, sliced (chestnut/button mushrooms)

400

 

g

 

tin of white beans

 

, drained and rinsed

50

 

g

 

walnuts

2

 

tablespoons

 

nutritional yeast

1/4

 

teaspoon

 

dried herbs

 

(I used a mixture of dried rosemary, sage and thyme)

1

 

teaspoon

 

miso

Salt + pepper

 

to taste
Instructions
Heat up the oil and add the onion and garlic once hot

Fry for around 10 minutes until softened

Add the mushrooms and fry for a further 5 minutes until softened

Place the cooked onion, garlic and mushrooms in a food processor or blender along with all the other ingredients, and whizz until completely smooth – you might need to mix it around a few times

Taste and adjust seasoning if necessary

Enjoy immediately, or leave in the fridge for a few hours to firm up before serving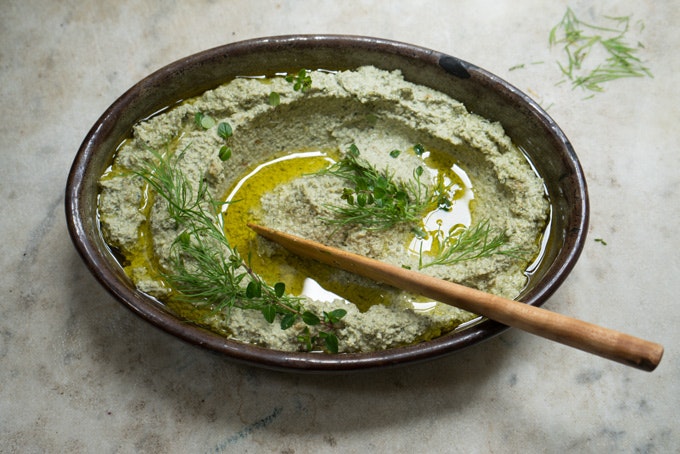 Seed Pate
1 1/2 cups raw pumpkin seeds
4 cups filtered water, for soaking
1/3 cup olive oil
1 medium garlic clove
4 sprigs of thyme or oregano
4 sprigs fresh dill
2 tablespoons chickpea miso
3 tablespoons fresh lemon juice
1/3 – 2/3 cups nut milk or water
hymaalayan salt to taste
Cover the seeds with 4 cups of water and soak for 4-6 hours, or, preferably, overnight. Strain the seeds, rinse well under running water. Drain well and place in a blender along with the olive oil, garlic, herbs, miso, lemon juice, 1/3 cup of the nut milk. Blend until smooth, thinning with more nut milk or water if needed. Taste and adjust with a few pinches of salt, and more lemon juice if needed.