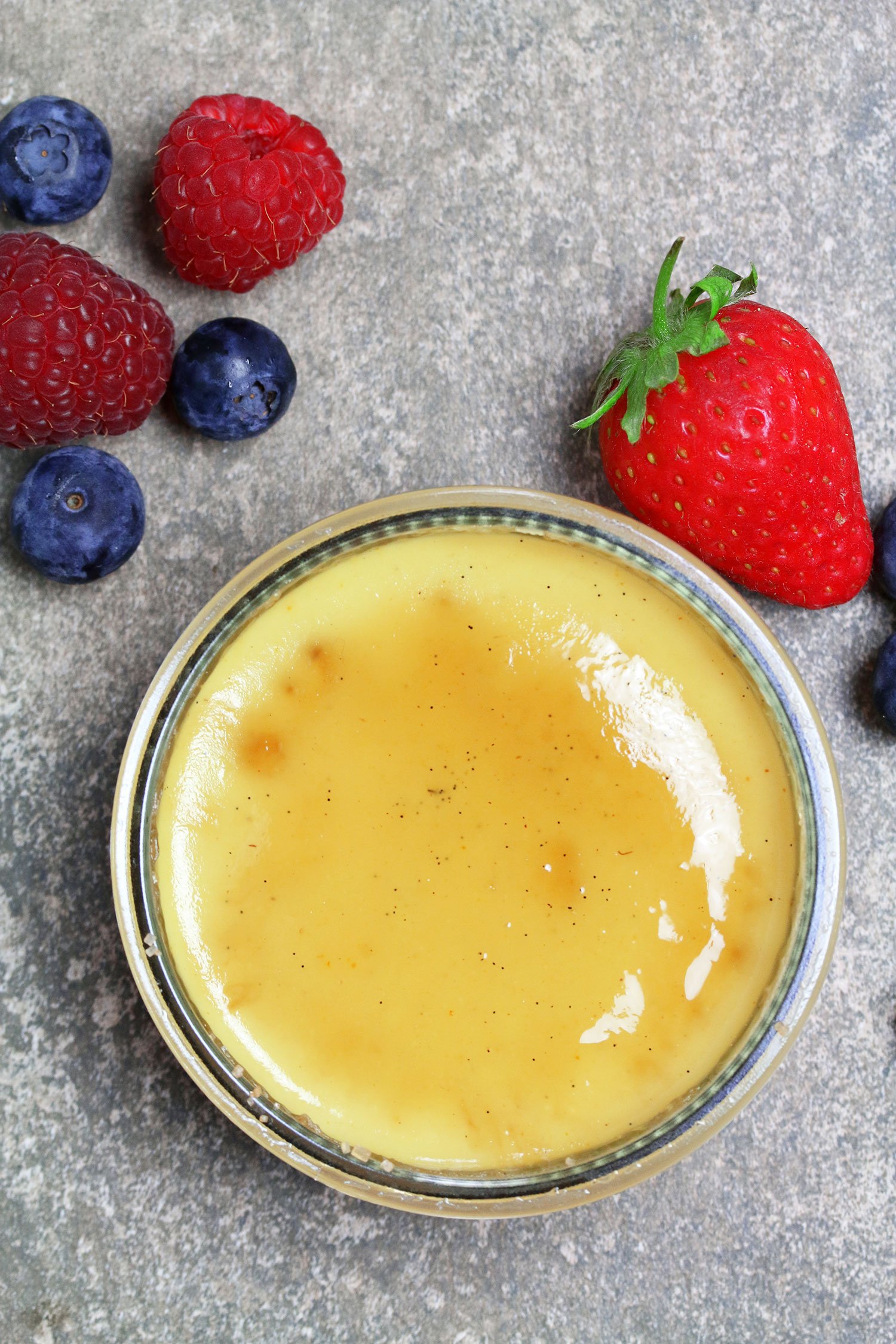 Ingredients:
1 cup (235ml) canned light coconut milk
2 tbsp coconut sugar
1/2 tsp agar agar powder
1/2 tsp vanilla paste OR 1 tsp vanilla extract
Pinch of turmeric
Method:
Pour the milk in a saucepan and add in the rest of the ingredients. Cook on high mixing continuously ensuring there are no lumps of agar agar. Take off the heat just before it starts to boil.
Pour into ramekins and leave to cool. Place in the fridge for a couple of hours to set.
Optional – sprinkle 1 tsp of coconut or brown sugar on the top of each brulee and place under a hot grill for the sugar to caramelise.
Enjoy hot, at room temperature or cold!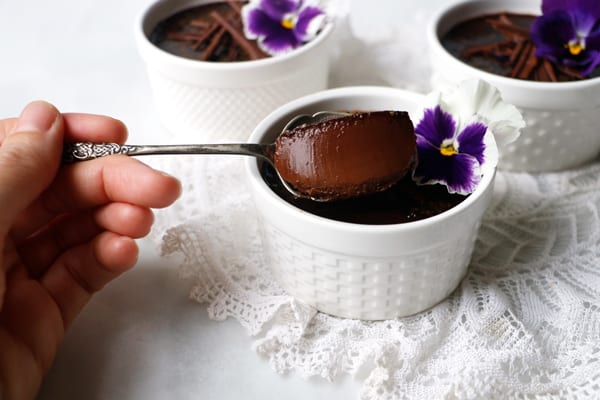 Chocolate Creme Brulee
INGREDIENTS
150g dark vegan chocolate (5.3oz)
480ml oat or coconut cream (2 cups)
2tbsp coconut sugar plus extra to caramelise on top
1½tbsp agar flakes
INSTRUCTIONS
Finely chop dark chocolate and set aside.
Pour cream into a small pot, stir in sugar and agar flakes, bring to a boil and leave to simmer for about 5 to 10 minutes stirring frequently until the flakes have dissolved.
Take off the heat, stir in chopped chocolate and mix until completely melted.
Pour evenly into each ramekin and place into fridge for about 1 hour until set.
Sprinkle with some sugar over each ramekin and use a blow torch to caramelise the top.
Serve and enjoy!
Gluten-Free Vegan Creme Brulee
INGREDIENTS (2 portions):
Vegan vanilla creme ingredients:
250ml plant-based milk (coconut, almond,…)
50g caster sugar
25g corn starch
2 tsp vanilla extract
Caramelised top ingredients:
1 tsp coconut sugar per ramekin
METHOD:
To make the vanilla custard mix add all ingredients to a blender and blend well. Make sure the plant-based milk is cold and not warm, otherwise the creme might become lumpy.
Pour into a cold pan and heat up (don't pour into a hot pan). Stir well so it doesn't burn an heat up on medium high to medium heat until it thickens (like in the video above). This will take roughly 5 minutes depending on your hob.
Spoon the mixture into ramekins and even out so that you get a flat surface. Let cool down and set in the fridge for at least 1 hour. You can also put them into the freezer if you don't want to wait as long (I am always impatient).
Take out of the freezer and add 1 tsp of caster sugar on top of the creme (it should be fully set by now).
Get a blow torch and caramelise the top. You can also use a candle or grill lighter but it will take much longer (if you go for that option then use less sugar on top). Alternatively you can broil your crème brûlée.Put the sugar coated ramekins on top of a rack just underneath and leave there for 3-5 minutes or so. Always check to make sure it doesn't burn. The ramekins should be very cold first though, otherwise the custard will start to cook and create bubbles.
Let cool down so the caramel topping firms up. Serve and enjoy!
Raw Vegan Cashew Creme Brulee
INGREDIENTS
Raspberry layer:
1 cup raspberries (fresh or frozen)
1 tbsp maple syrup
½ tsp chia seeds
Creme brûlée layer:
1 cup cashew soaked for 3-4 hours in 1 cup water
3 tbsp melted coconut oil
3 tbsp maple syrup
5 tbsp unsweetened almond milk
1 tsp vanilla
To serve:
INSTRUCTIONS
Firstly prepare the raspberry layer by placing the berries and sweetener in the blender and blend until smooth.
Stir in the chia seeds and set aside.
To make the creme brûlée layer drain the cashews and place on the blender along with the sweetener, coconut oil, vanilla and milk.
Blend for 4-5 minutes or until smooth.
Divide the raspberry mixture between the four ramekins.
Spoon the cashew creme mixture over the berry layer.
To serve sprinkle ½ -1 tsp of coconut sugar over each ramekin.
Place under the grill on high for 2-3 minutes or until the sugar layer bubbles and is golden.
Enjoy!
Eggless Flan
This refined sugar-free and eggless flan adaptation is a delicious, smooth, simple, and comforting little treat. This classic recipe fits a wide variety of diets as it's gluten-free, vegan, grain-free, and oil-free, soy-free, nut-free, and can be made coconut-free as well.
INGREDIENTS
Flan:
1 cup light coconut milk (or almond milk)
3 tbsp maple syrup
2 tsp agar agar flakes (mine were finely crushed; see notes re: powder)
⅛ tsp raw ground vanilla bean (or 1 tsp pure vanilla extract)
Caramel:
a few tbsp date syrup (or coconut syrup), or alternatively some maple syrup
INSTRUCTIONS
Place all flan ingredients in a small sauce pan and bring to a simmer on medium heat, stirring regularly. Once the mixture comes to a light simmer, let it simmer for about 30 seconds to 1 min, then turn off the heat.
Divide this mixture between three small ramekins (or small glass containers), let cool to room temperature, then carefully place in the fridge and refrigerate for two-three hours (or overnight) to set.
When ready to eat, run a knife around the edge of the flan to loosen it up a little, then flip the ramekin onto a plate and tap the top to release the flan (or alternatively simply enjoy out of the ramekin). Top with some date syrup and enjoy! Keep leftovers refrigerated.
I appreciate your support.