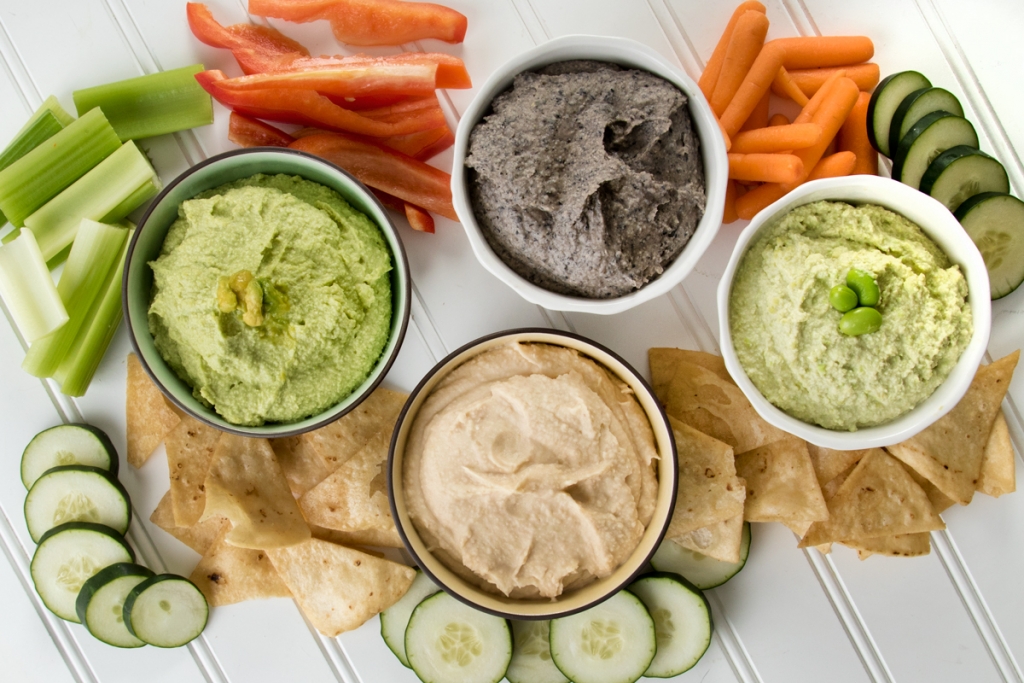 Hummus
1 can white beans, rinsed and drained
¼ cup olive oil, plus extra for drizzling
1 tablespoon lemon juice
1 garlic clove
½ teaspoon sea salt
½ teaspoon freshly ground black pepper
1 medium tomato, chopped
¼ cup fresh chopped basil
Balsamic vinegar for drizzling
Combine beans, oil, lemon juice, garlic, salt, and pepper in a food processor and process until smooth, stopping to scrape down the sides with a spatula. Adjust seasoning to taste and transfer to a bowl. Top with chopped tomato and basil, and drizzle with oil and vinegar. Season with salt and pepper and serve.
Beet Hummus
Ingredients
1

 

medium

 

beetroot

 

roasted, boiled or steamed

1

 

can

 

chickpeas

 

or 1 cup of cooked chickpeas

2

 

cloves

 

garlic

1

 

tbsp

 

tahini

2

 

tbsp

 

lemon juice

2

 

tbsp

 

olive oil

1/4

 

tsp

 

ground black pepper

pinch of salt
Instructions
In a food processor, add all ingredients and whizz until smooth.

If the dip is too thick, add a little bit of water. Serve in a bowl, add a little of olive oil and sprinkle with chopped parsley.
Spinach Hummus
1 can chickpeas, rinsed and drained
2 cloves garlic, peeled
3 tbsp. chopped chives
3 cups baby spinach leaves, washed and thoroughly drained
zest and juice of 2 small lemons – some comment have said it's too citrusy. start with one, taste it and add another if needed
1/4 cup extra virgin olive oil
kosher salt and fresh ground pepper, to taste
Combine the chickpeas, garlic cloves, and chives in a food processor and pulse until roughly mixed. Add the spinach, lemon zest and squeeze in the lemon juice and puree until smooth. With the processor running, drizzle in the olive oil. Taste and season to your liking with salt and pepper. Garnish with some crunchy salt, some herbs or celery leaves or some chopped chives. The lemon in the recipe will help the hummus keep a vibrant color for a day or two if you store it in an air-tight container.
Avocado Hummus
240g cooked or tinned chickpeas
1 avocado, peeled, stone removed and roughly chopped
2 tbsp tahini
Juice of 1 lemon
1 small garlic clove
Handful fresh mint leaves, plus extra to serve
Pinch sea salt
Plenty of freshly ground black pepper
Instructions
Place all of the ingredients together in a Vitamix or food processor.
Blend until it forms a smooth and creamy paste.
Add more seasoning to taste.
Garnish with fresh mint and serve with fresh crusty bread or however you please.
Mushroom Hummus
Ingredients
3 cups baby bella or portabella mushrooms, sliced
½ cup olive oil plus 2 tablespoons
1-14 0z can garbanzo beans drained and liquid reserved
⅓ cup tahini
2 garlic cloves
juice of 1 lemon
1 tbsp chopped parsley
Sea salt and freshly cracked pepper to taste
Instructions
Preheat oven to 425 degrees.
Place sliced mushrooms on a baking sheet, drizzle with olive oil and season with salt and pepper. Roast for 15 minutes until browned, stirring them half-way through. Remove from oven set aside to cool.
Combine remaining olive oil, garbanzo, tahini, garlic and lemon juice in a food processor and pulse for a few seconds. Add mushrooms, leaving some aside to garnish with. Pulse again. Add just enough of the reserved liquid from the garbanzo beans until you reach the desired consistency. Season with sea salt and pepper to taste and serve wit pita wedges or pita chips.
Roasted Red Pepper And Chilli Hummus
2

 

large

 

red bell peppers

1

 

tsp

 

olive oil

1

 

red chilli

1

 

clove garlic

1

 

large

 

lemon, finely grated zest and juice

2

 

Tbsp

 

extra virgin olive oil

2

 

Tbsp

 

tahini

1

 

400g/14oz

 

tin of chickpeas

salt and pepper
Instructions
Preheat the oven to 200°C/400°F/gas mark 6. De-seed the peppers and chop into chunks. Spread them out on a baking tray and rub with the teaspoon of olive oil. Roast for 25-30 minutes until soft and slightly charred in places. Set aside to cool.

De-seed and roughly chop the chilli (if you want your hummus hotter then there's no need to remove the seeds). Peel and crush the garlic. Finely grate the lemon zest and squeeze the juice.

Place the chilli, garlic, lemon zest and juice, roasted peppers, extra virgin olive oil, tahini and chickpeas in a food processor. Blend well until smooth, scraping down the sides as needed, then season to taste with salt and pepper.