Veggie Vegan Breakfast
Ingredients
4

 

cups

 

potatoes

 

peeled and cubed

salt and pepper to taste

1

 

can

 

pinto beans

 

drained and rinsed

1

 

cup

 

zucchini

 

chopped

1

 

cup

 

squash

 

chopped

1

 

red bell pepper

 

chopped

1/2

 

cup

 

mushrooms

 

sliced

1.5

 

tsp

 

garlic powder

1.5

 

tsp

 

onion powder

1/2

 

tsp

 

paprika

pinch of chili flakes
Instructions
Pre-heat the oven to 425 degrees Fahrenheit.

Toss the potatoes with salt and pepper and spread out on a parchment-lined baking sheet. Let the potatoes bake for 25 minutes. Toss and put back into oven.

In a separate baking dish or cast iron pan, mix the remaining veggies, beans, and spices together. Put the baking dish in the oven next to the potatoes and continue to bake both for 15 minutes.

Stir the potatoes in with the veggies and beans, season with more salt and pepper if desired, and serve!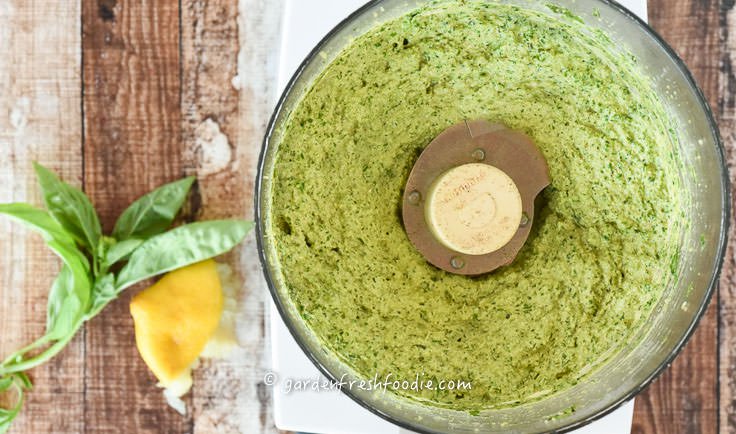 Ingredients
3 cups packed basil
1/2 cup lightly toasted pine nuts
4 cloves of garlic (or 1 heaping tbsp)
1 tbsp nutritional yeast
2 tbsp fresh lemon juice
1/4-1/2 tsp salt/pepper to taste
water to thin (about 4 tbsp)
Instructions
Place pine nuts into a pan on medium heat. Lightly toast them, watching carefully that they don't burn (this happens quickly). No added oil is needed in the pan, since pine nuts have a high amount of natural oil.
Place all ingredients into a food processor and blend.
Use right away or freeze in ice cube trays. To do this, place tablespoons into a tray. Freeze, and then remove from trays. Store in a freezer bag for later use.
Pesto is great on raw or slightly sautéed zucchini noodles, on pizza, traditional pastas or in stuffed peppers.
Ingredients
1 1/2

 

pounds

 

small red potatoes

1

 

teaspoon

 

salt

 

optional

1

 

tablespoon

 

aquafaba or water

1

 

teaspoon

 

tomato paste

1/2

 

tablespoon

 

brown rice flour

 

or flour of your choice

1

 

teaspoon

 

smoked Spanish paprika

1

 

teaspoon

 

hot smoked paprika

 

or 3/4 tsp. sweet smoked paprika plus 1/4 tsp. cayenne pepper

1/2

 

teaspoon

 

garlic powder

1/2

 

teaspoon

 

salt
Instructions
Wash the potatoes well. Cut the small ones in half, medium ones in quarters, and large ones into sixths. Potatoes should be about 1 1/2-inch at widest point.

Boil the potatoes until just soft. Place potatoes and optional salt in a saucepan. Cover with cold water. Bring to a boil and cook until potatoes are just tender, about 10-20 minutes.

Drain potatoes well and put them in a large bowl.

Combine the aquafaba and tomato paste in a small bowl. In another small bowl, mix the flour with the remaining ingredients.

Add the tomato paste mixture to the potatoes, using a silicone spatula or spoon to gently coat all the potatoes. Sprinkle the dry seasonings on the potatoes, stirring gently with the spatula until all are coated.

In the oven: Preheat oven to 400F. Line a baking sheet with parchment paper or a silicon baking mat. Spread the potatoes in a single layer on the prepared sheet. Bake for 10 minutes. Use a spatula to turn the potatoes and bake for another 10 minutes. Check for crispiness and add additional time as needed. Potatoes are done when they are crispy on the outside and tender inside.