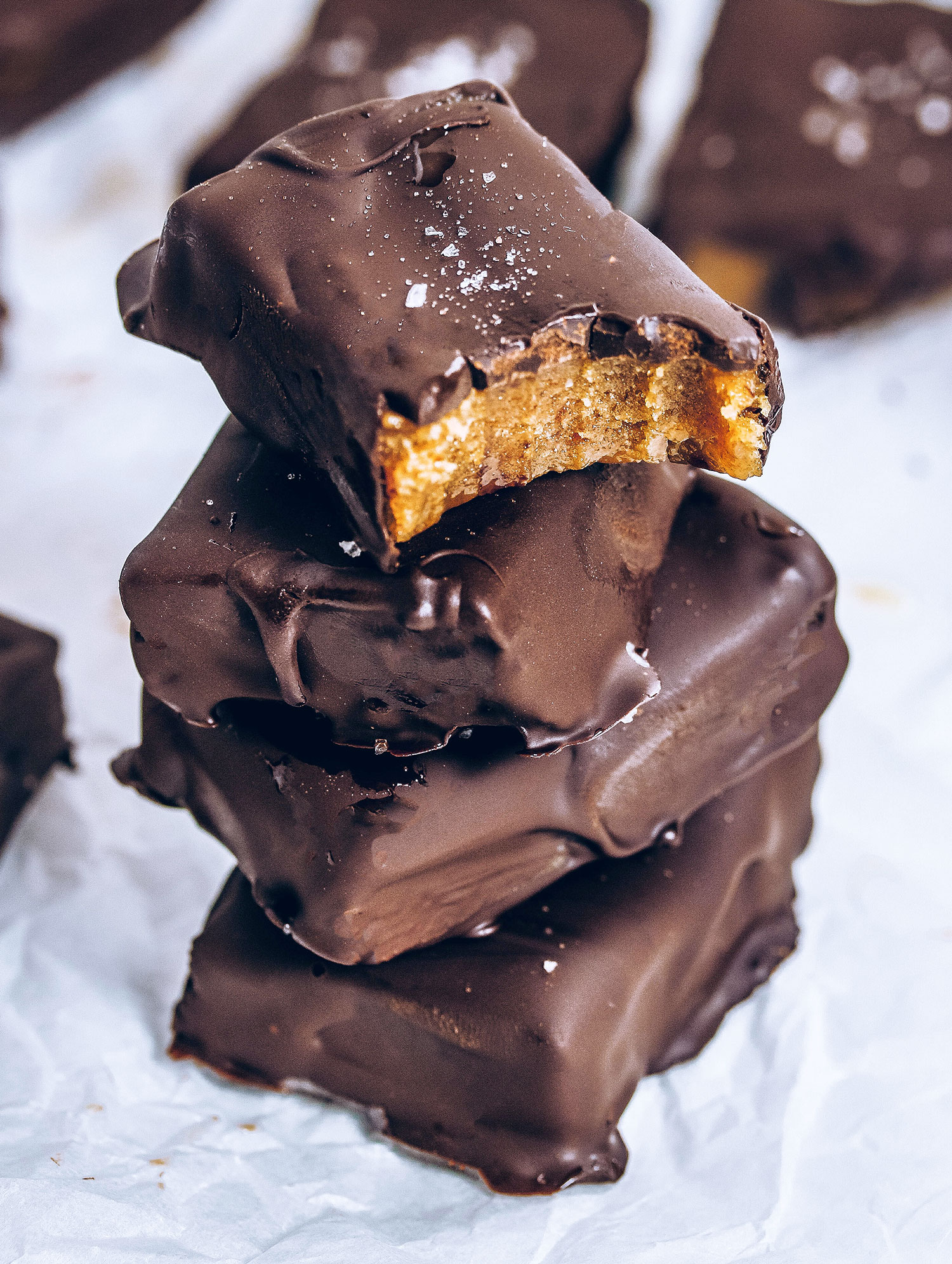 Salted Caramel Fudge
Makes – 12 pieces
Ingredients
13 (250g) pitted medjool dates
1/2 cup (120ml) tahini
Pinch of salt
200g dark chocolate, melted
Add the dates, tahini and salt to a food processor and blend until combined.
Press into a loaf tine (I used a 22×12 cm loaf tin). Freeze for 1-2 hours.
Slice into 12 even pieces and dip into the melted chocolate insuring each piece of fudge is fully covered.
Allow the chocolate to set. Store in an air-tight container in the fridge for up to 5 days. You can freeze the leftovers, just ensure you take them out of the freezer 15-20 minutes before serving.
Raw Nutty Pieces
Base layer:
1 cup raw almonds
 1 cup of dates
 1 teaspoon of pure vanilla extract
In a food processor, process dates, almonds and vanilla extract until a doughy ball forms.
line an 8 inch pyrex with parchment paper, press your almond and date mixture into the pyrex. Note I didn't fill the whole pyrex I used 3/4 of it, you want a this layer to be thick.
Middle layer:
1 tablespoon of nut butter
1 tablespoon of organic coconut oil (melted)
1/4 chopped raw almonds
In a small bowl combine nut butter and coconut oil.
Drizzle the mixture over your base layer.
Sprinkle the almonds over your base layer.
Place your pyrex in the freezer for around around 20 minutes to set.
Chocolate coating:
3 tablespoons organic coconut oil (melted)
2 tablespoons raw cacao
1 tablespoon of nut butter
Combine all ingredients in a small bowl, mix well to combine.
Take your pyrex out of the freezer and cute them into 15 evenly sized bars.
Line a baking sheet with parchment paper.
Dip each bar separately into the chocolate mixture coating each side (this might get messy).
Place each square on prepared baking sheet, you can top with additional nuts or coconut at this point.
Place your baking sheet with chocolate squares in the freezer for at least 2 hours or until chocolate hardens. You can leave it as is or cut them in half.
Store in an airtight container in the freezer. Be sure to keep them frozen or the chocolate coating will melt.
Raw Chocolate Chip Nut Bar
1

 

cup

 

Medjool dates, pitted

1/2

 

cup

 

almonds

1/2

 

cup

 

pecans

1/8

 

tsp.

 

fine sea salt

1

 

tsp.

 

pure vanilla extract

1/2

 

cup

 

vegan chocolate chips
In a food processor, pulse together the dates, almonds, pecans, and salt. Process until the pieces are uniform and the dough sticks together when you pinch it in between your fingers. Then mix in the vanilla and chocolate chips

Spread the dough onto a piece of parchment paper and shape it into your desired shape. I used an 8″ x 8″ square pan and shaped the dough into a 6″ x 6″ square. Refrigerate the dough for a few minutes, until firm. Cut the cookie dough into bars or bite-size pieces. You can also roll the dough into balls (in which case you don't have to refrigerate the dough).

Store any leftovers in an airtight container in the fridge for a week or in the freezer for up to 3 months.
Ingredients
3 C. of nut/seed pulp
1/2 C. Chia Porridge
1/4 C. coconut oil
1/4 C. Smart Sweet (this can be found online)
1/2 C. walnuts or pecans, chopped
8 drops Vanilla Stevia
2 tsp. cinnamon
pinch of salt
Place ingredients in blender and blend until smooth.
Roll into a flattened loaf and slice 1-inch thick using nonstick dehydrator trays. Dehydrate at 115° F for 24 hours or until totally dry. (If using a conventional oven, please set oven at lowest temperature, place 1 inch slices from flattened loaf onto baking tray lined with parchment paper, place tray in oven, keep oven door slightly open, use oven fan if you have one, check after 8 hours and add time if not totally dry.)
Optional: Chocolate Dip
1 cup melted coconut oil
2-3 Tbsp Cacao (or to taste)
1 dropper Chocolate Stevia (or to taste)
Whisk ingredients together in pan and then pour into a bowl.
Fig Bars
Ingredients
1/2 cup old fashioned rolled oats (gluten free, if desired)
1/2 cup uncooked quinoa
1/4 cup raw sunflower seeds
1/4 cup raw pumpkin seeds
1/2 cup sunflower butter
1 teaspoon vanilla
1/2 teaspoon cinnamon
1/4 teaspoon sea salt
1 tablespoon chia seeds
1/2 cup black mission dried figs
1 tablespoon dark chocolate chips (vegan, if desired)
Process all ingredients until they are roughly chopped. Line an 8×4 or 9×5 inch loaf pan with parchment paper; pour mixture in and spread out evenly, then press mixture down in the pan very firmly. Next melt chocolate chips for 20 seconds in the microwave or over low heat in a saucepan on the stove top. Drizzle over bars. Place pan in freezer for 30 minutes or until mixture has hardened. Remove bars from pan and cut into 10 bars. Store bars in the fridge.
Candy is usually not recommended in a diet. But since we can have cravings as humans, it's good to know we have other options available. These include nuts, seeds and dried fruits as the base of the candy. These are much more nutritious ingredients and the sweet craving is pleased with natural sugar that comes from a fruit. Notice the options presented above are not only refined sugar-free but cane sugar-free as well, or free from any other sugar that went through a refinement process (click here  to check other sugar types), and they don't include any Vegan Sweeteners. They are also a good option as a snack, to eat when you are on a hurry, or to give to children. They are not low-glucemic options so bear in mind candy should be consumed in moderation and sporadically, because they cause a sugar spike in your body, and therefore it is thrown out of balance.
My conclusion is that the best source of sugar are dried fruits and stevia for sweet preparations, or in this case, candy. Anything that has been refined doesn't seem natural. So if we get closer to an ideal diet, the more natural the better. It also saves time in the kitchen. But to those who are busy and want to buy something or those making the transition to new options, my website offers a wide range of alternatives to try and experiment and make our eating habits a little bit healthier and more conscious.