Vegan Rainbow Unicorn Cupcakes
Serves 8 to 10 cupcakes
Base
2 cups of white dried mulberries
2 cups of almond flour
2 cups of coconut flour
5 to 6 pitted dates
3 tbsp of raw coconut nectar
A dash of vanilla
Put all ingredients in a food processor until it reaches a thick texture. Put the mixture into cupcake liners.
Icing
2 cups of Cashews
2 tbsp of orange juice
1 cup of coconut water
3 to 4 pitted dates
A dash of vanilla
Blend all ingredients. Separate the mixture in different bowl and add Natural Colouring Substitutes , to each bowl. Put the icing in pipping bags and put it on top of the cupcake. Refrigerate.
Vegan  Raspberry Energy Balls
Ingredients
1/2 cup Dates, dried
1 cup Raspberries, frozen
1 Pinch Salt
1 tsp Vanilla extract
1 cup Cashews
2 cups Desiccated coconut
Put all ingredients in a food processor. Shape the mixture into balls. You can roll them over some desiccated coconut or leave them as they are. Take them to the fridge for 30 minutes to set.
Strawberry Balls
Serves: 25 bite size balls
Ingredients
75g cashews (1/2 cup), soaked for 3 hours
100g desiccated coconut (1 cup)
100g medjool dates (3/4 cup), about 6 dates, pitted
2 tbsp freeze dried strawberry powder
1 tbsp coconut oil
½ lemon, juice
Instructions
Soak the cashews for 3 hours in some water, rinse and drain well.
Place all of the ingredients into a food processor and blend until the mixture comes together.
Transfer the mixture into a bowl and roll into bite size balls using palm of your hands.
Roll the balls in some extra strawberry powder.
Transfer to an airtight container and place into a fridge for about an hour to firm up.
Store in a fridge for up to a week.
Blueberry Coconut Bliss Balls
Ingredients
1 cup blueberry jam
1¼ cup coconut flour
¼ cup maple syrup
¼ cup unsweetened plant milk
¼ tsp salt
½ cup shredded unsweetened coconut for rolling
Instructions
Process all ingredients, except shredded coconut, in a food processor into a uniform mixture. Allow it to sit for a minute. Meanwhile spread the shredded coconut on a plate.
Use a 1 tbsp cookie scoop or just pick out even amounts of the dough with your hands and roll the mixture into balls. Roll each ball in the shredded coconut and set aside. Let them rest a few minutes and enjoy fresh or chilled!
Carob Macaroons
1 C. melted Coconut Oil
½ C. purified water, warmed
3-4 droppers Chocolate Stevia
½ tsp. Himalayan Salt or Transformational Salt
2 tsp. lemon juice
1 ½ C. raw carob powder
2 Tbsp. refrigerated prepared Agar Agar*
8 C. shredded coconut
Options: Mesquite, Chipotle, Vanilla, or Cinnamon
Blend all ingredients, except the shredded coconut, in a blender. Fold in the shredded coconut. Mix well and scoop into cookie shapes (or desired shape), place on a baking sheet lined with parchment paper and refrigerate for at least an hour. These can be stored in an airtight container in the fridge for up to a week.
*How to Prepare Agar Agar
8 cups purified water
½ cups Agar Agar Flakes
Place agar agar flakes in cold water and whisk. In a saucepan, bring to a boil while stirring, for 4-6 minutes or until flakes are all dissolved. Allow gel to cool, then refrigerate. It should be solidified like a thick gelatin. Store in the refrigerator and use as a thickener for desserts or salad dressings.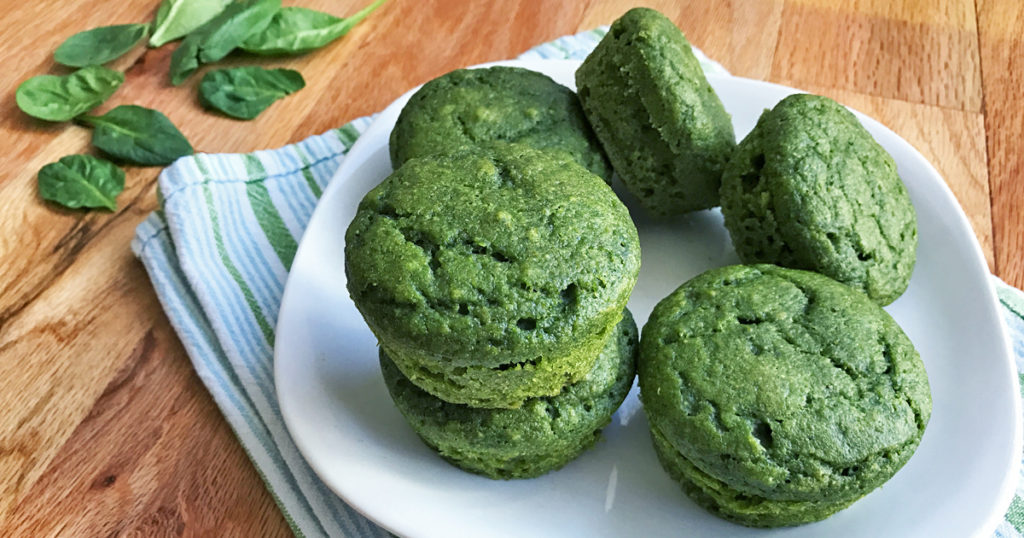 Sweet Spinach Muffins
 Serves: 18 muffins, Prep Time: 10 m, Cook Time: 18 m
Ingredients
18 standard – cupcake liners
DRY INGREDIENTS:
2 cup – flour, whole wheat
1 1/2 teaspoon – cinnamon
2 teaspoon – baking powder
1/2 teaspoon – baking soda
1/4 teaspoon – salt
WET INGREDIENTS:
3/4 cup – milk
1/2 cup – honey
1 large – banana
6 ounce – spinach
1/2 cup – butter, unsalted
1 large – egg
1 teaspoon – vanilla extract
Directions
Preheat oven to 350 F, and line a muffin pan with paper liners (or use silicone muffin cups sprayed with cooking spray).
Combine all dry ingredients in a large mixing bowl.
Melt butter. Blend the wet ingredients in a blender or food processor until completely pureed.
Pour the puree into the dry ingredient bowl, and fold together gently until just combined. (Do not over-mix.)
Spoon the batter into the muffin pan, and bake for 18-22 minutes, or until the muffins are firm to the touch on top, but not quite browning.
Cool most or all of the way before serving.
I appreciate your support.